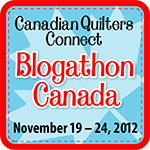 Thank you Patti (of
Retired to Quilt
) for including me in the list of Saskatchewan Quilt Bloggers. I feel like a bit of a poser among the others but I'm starting to feel more and more like a REAL quilter all the time!
And thank you
Sew Sisters Quilt Shop
for hosting this wonderful event and for including me. I'm very excited to find more Canadian quilt bloggers!
Welcome visitors.
Obviously quilting hasn't been the primary purpose of my blog but I'm happy to say I'm moving in that direction thanks to knocking down most of my hurdles. Click on the "
QUILTS
" tab above to get some idea of the quilting I've been doing. Maybe you'll want to check back from time to time. I hope to have my Plus Quilt top done this weekend and soon I hope to undertake my first machine quilting! YIKES!
And, oh yes, my first ever
GIVEAWAY!
The thing is I don't know what it will be yet.
(Oh yes, I do ... scroll down to see what it is)
.
Meanwhile, just add a comment to be entered. International entries are most welcome. In your comment, tell me something you associate with Saskatchewan or share a Saskatchewan experience. And feel free to say so if you had to Google "Saskatchewan".
I'll make the draw and announce the winner on November 25, after the tour has finished.
Good luck and enjoy visiting all the blogs!
Addendum:
Here's what I'm giving away - 5 fat quarters. I think they're lovely. They're all from one fabric line except for the lime green chicopee at the top. I took this photo at night since I hardly ever see real day light during the week except out my window at work (thank GOD I have a window), so the colours aren't exactly true. In the photo the chicopee looks yellow instead of lime green and that tone on tone grid is actually more red than orange. Click on the links below to see better online photos of each fabric. Darkness sucks ... just sayin'.
From top to bottom