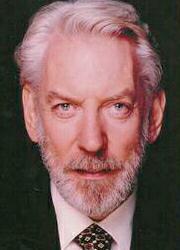 While watching tv tonight, one of those Olympic ads narrated by Donald Sutherland came on. I was thinking about how
much I love his voice. I also love Leonard Cohen's voice. I think they're my two favourite voices (aside from voices of comfort from my childhood). For a moment I almost added Sean Connery's but as much as I love his voice, I'll stick with Donald and Leonard. I just realized, too, that both of my choices are Canadian. Hmmmm ... I didn't plan that. Interesting. Ponder ... ponder ... ponder.
Who has your favourite famous voice? Surely someone comes to mind.